Welcome to English Plus, the podcast that takes your English skills to the next level while exploring fascinating topics from science, business, history, myths and legends, literature, stories, and beyond. Join us on a journey of learning and discovery, where we not only improve our language abilities, but also broaden our knowledge and understanding of the world around us.
Listen to English Plus On
Recently on English Plus Podcast
In this Word Power episode – Learning the Ropes, we discuss 10 commonly used English keywords, including Gothic, impregnable, riven, insularity, elite, reverence, mystique, exhort, sundry, and primal. We define each of these words and explore how they can be used in different contexts. Plus, we offer tips for practicing these words to help expand […]

Welcome to this episode of English Plus Podcast, where we'll be discussing the art of crafting powerful paragraphs. Whether you're a student looking to improve your essay writing, a professional seeking to enhance your communication skills, or simply someone who wants to express themselves more effectively in writing, this episode is for you. The post […]

In this episode of Word Power, we explore the unique architectural style of the Great Camps in the Adirondack Mountains, and learn 10 new vocabulary words that will help you describe and appreciate this historic design. From the rustic charm of the buildings, to the prepossessing interiors filled with luxurious accoutrements, to the patina that […]

Beliefs are an integral part of the human experience, shaping our perceptions of the world and influencing our behaviors. Some beliefs are rooted in fact and supported by evidence, while others are based on superstitions, urban legends, or conspiracy theories. On this episode of English Plus Podcast, we delve deep into the topic of beliefs, […]

Learn about how the metric system came to existence and how it replaced the archaic arbitrary imperial system as a meaningful measurement in this new Word Power episode from English Plus. In this episode, we will also discuss in detail ten keywords and learn what they mean in context and beyond. The post Meaningful Measurement […]
Read Our Latest Magazine Articles
English Plus Magazine — Expanding Minds, Empowering Lives
Discover English Plus Magazine, your online destination for mastering the English language, exploring diverse topics, and enriching your cultural understanding.
Social media has transformed political discourse, but its impact has been both positive and negative. Learn about the pros and cons of social media's impact on politics in this article. The post The Impact of Social Media on Political Discourse: A Look at the Pros and Cons appeared first on […]

English for Specific Purposes (ESP) courses provide learners with the language skills needed to succeed in a particular field of study or profession. Learn more about ESP and its benefits. The post English for Specific Purposes: What It Is and Why It Matters appeared first on English Plus Magazine.

Discover the legendary figures of King Arthur and the Knights of the Round Table, their stories of adventure and heroism, and their ultimate downfall. The post The Legend of King Arthur and the Knights of the Round Table appeared first on English Plus Magazine.

Discover the events leading up to the iconic Battle of Thermopylae, the tactics used by both sides, the outcome, and the lasting significance of this historic conflict. Learn about the heroic stand of King Leonidas and his 300 Spartans, and the impact this battle had on Greek culture and warfare. […]

Explore the transformative impact of social media on human communication and interaction, from breaking geographical barriers to democratizing information. The post Redefining Communication: The Transformational Impact of Social Media on Human Interaction appeared first on English Plus Magazine.

Learn about the meanings behind common idiomatic expressions involving animals, from "the elephant in the room" to "the lion's share." The post Animal Idioms: Unlocking the Meaning Behind Common Expressions appeared first on English Plus Magazine.
What's Our Latest Episode About?
Episode 755 | Word Power| Stick Style
Find that out in your own language first, then listen to the full episode in English!
Click on the icons below to listen.

English

Arabic

Chinese

French

German

Hebrew

Hindi

Indonesian

Italian

Japanese

Korean

Polish

Portuguese

Russian
Spanish

Turkish
Listen to the Full Episode
Don't miss a word with our INTERACTIVE TRANSCRIPT, and practice what you learn with our Quizlet Flashcards, and PDF practice worksheet.
English Plus Founder & Host
Are you ready to learn English in a way that's both enjoyable and valuable? Look no further than English Plus Podcast and your host, Danny! As a podcaster, writer, and musician, Danny is on a mission to bring the best of all worlds to his listeners and students worldwide.
But don't take our word for it – see for yourself! Through his podcast, online courses, books, music, and more, Danny delivers a unique blend of education and entertainment that makes learning English a fun and engaging experience. With English Plus Podcast, you'll never stop learning – or having a good time!
So what are you waiting for? Connect with Danny today at [email protected] and start your journey to mastering English with style and substance.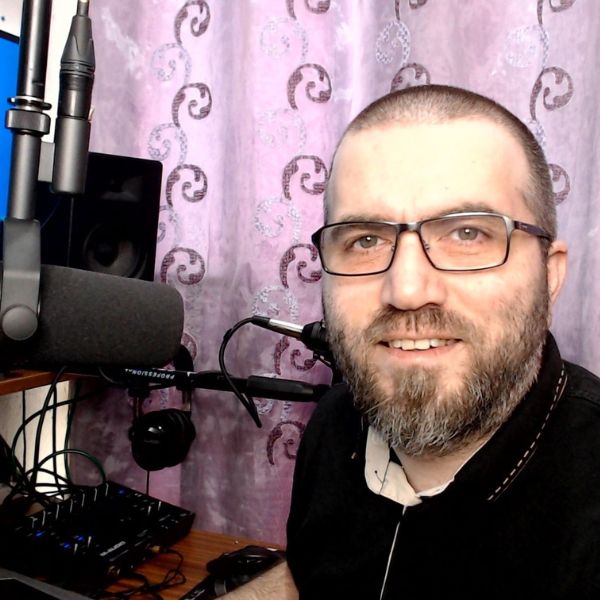 Podcaster, Writer, Musician